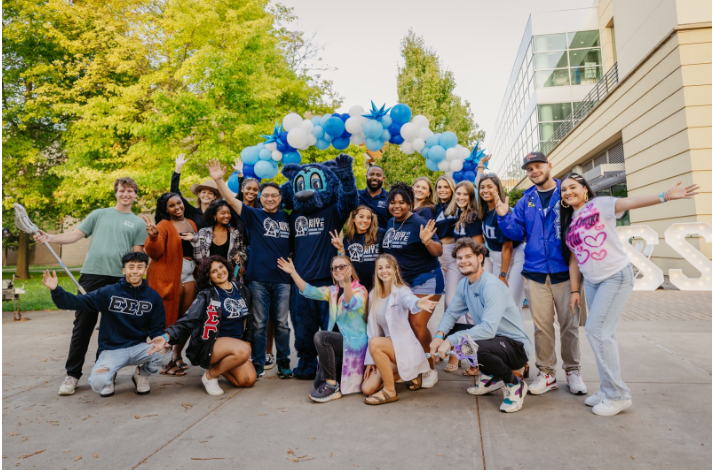 Seawolf Family Weekend 2022 Registration
It's been a long time coming, but we would like to formally invite our Seawolf Parents and Families to visit us for our IN-PERSON Seawolf Family Weekend from Friday October 21st - Sunday, October 23rd!  
We are excited to host you on campus to reconnect with your Seawolf, enjoy the early fall days in Sonoma County, and to participate in some of the family fun that we have planned. 
Join us at Seawolf Family Weekend to:
Visit with your student, and see their campus

Meet other SSU families

Explore campus and access many of our facilities

Enjoy some of our special events, cultural, athletic, and performing arts programs and activities 
We know you will enjoy the time with your Seawolf, and we are here to offer some fun from your friends in Student Involvement, the Alumni Association, and the SSU Parent & Family Association. 
We can't wait to welcome you back to campus!   
Please join us and remember why SSU and Sonoma County are still a great choice for your student and family! Many of the events are sponsored by SSU Parent & Family Association, the SSU Alumni Association, Student Involvement, the Division of Student Affairs, and University Advancement. Once you register, additional information will be provided to you. 
If you are interested in attending, please click this link to take you to our registration page. 
If you're looking for information pertaining to traveling to campus or area hotels, that information can be found here. 
Parking permits are required. Permits cost $5 and may be purchased at kiosks in the parking lots. Refer to the map for locations. You may also purchase a parking permit online in advance of Parent and Family Weekend. 
Registration deadline is October 19, 2022.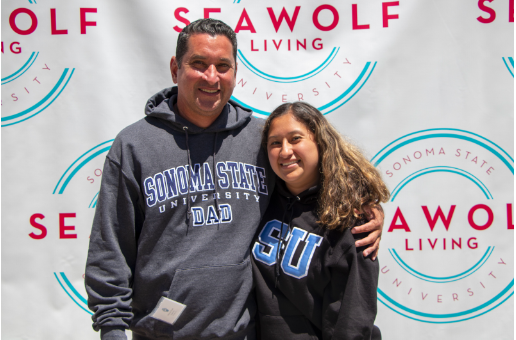 Parent and Family Weekend 2022 Schedule of Events*
Friday, October 21
12:30 pm - Seawolves Kick Cancer Men's Soccer vs. San Bernardino 
Tickets Discount Code Family22 for free tickets Soccer Fields
3:00 pm - Seawolves Kick Cancer Women's Soccer vs. San Bernardino 
Tickets Discount Code Family22 for free tickets Soccer Fields
7:00 pm - Ice Cream Social (sponsored by the Alumni Association) 
Seawolf Plaza
7:30 pm - "Water By the Spoonful", presented by the Theatre Arts & Dance Department 
Tickets Discount Code Preview22 for free tickets Person Theatre
8:00 pm - Family Movie Night: Maverick on Lobovision 
(Bring a blanket!) Seawolf Plaza
Saturday, October 22
12:00-2:30 pm - Campus Resource Fair 
Seawolf Plaza
3:00 pm - SSU Dig Pink Volleyball Game vs. San Francisco State 
Tickets Discount Code Family22 for free tickets Wolves' Den (Fieldhouse)
4:00-6:00 pm - Wine Reception (sponsored by the University Advancement)
Wine Spectator Learning Center
6:00 pm - Miracles of the Mind Hypnotist Show ft. Brian Imbus 
Student Center, 3rd Floor
7:00 pm - Pumpkin Carving 
Student Center, 1st Floor
7:30 pm - "Water By the Spoonful", presented by the Theatre Arts & Dance Department 
Tickets Discount Code Preview22 for free tickets Person Theatre
All Day - The Kitchens (On-campus dining hall) will be offering $7 meals all day
Sunday, October 23
11:30 am SSU Men's Soccer Game vs. San Marcos 
Tickets Discount Code Family22 for free tickets Soccer Fields
1:00 pm - 3:00 pm - Safe Trick or Treat 
(Bring your costume and walk around our Residential Campus, or enjoy some of the entertainment) Sauvignon Village, Residential Campus
2:00 pm - "Water By the Spoonful", presented by the Theatre Arts & Dance Department 
Tickets Discount Code Preview22 for free tickets Person Theatre
3:00 pm - SSU Women's Soccer Game vs. San Marcos  
Tickets Discount Code Family22 for free tickets Soccer Fields 
* Programming times are subject to change and will be update here on this webpage